Due to security reasons, the Discord server link has been disabled. If you'd like to join the Power Master Discord, please contact Alex95 (talk - contributions) privately in some way for more information. Thank you.
Tarantula
From Power Master Wiki
Jump to navigation
Jump to search
A Tarantula is a large spider that first appears as an enemy in Power Master 1: A Strange Journey.
Power Master 1: A Strange Journey
Tarantula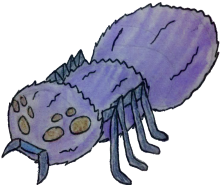 Enemy Statistics
Species
Bug
Locations
Nora Spider Web
Health
500
Energy
None
Offense
400
Defense
150
Power
None
Resistance
None
Agility
70
Luck
50
Features
Actions
Attack (Physical), Poison Cloud
Strong Against
None
Weak Against
None
One Tarantula is seen in Nora Spider Web, roaming the lower level. A battle with the Tarantula will begin if it and the player come into contact with each other. It can poison the player with Poison Cloud and has no strengths or weaknesses.
Card Info
Name: Tarantula
Health: 500
Attack: 400
Defense: 150
A large spider in charge of guarding Tora Tree and Daddy Long Legs.
The Card Info reads "[...]guarding Tora Tree and Daddy Long Legs." Tora Tree is a mistake, possibly confused with Nora Spider Web as it, too, is a tree, but Daddy Long Legs was the original name for the boss of Nora Spider Web, who was replaced with Latridow.
Gallery