Due to security reasons, the Discord server link has been disabled. If you'd like to join the Power Master Discord, please contact me privately in some way for more information. Thank you.
Main Page
From Power Master Wiki
Jump to navigation
Jump to search
Welcome to the official Power Master Wiki!
Introduction • Rules of the Wiki • FAQ • Editing Help • Recent Changes • Create Account • Community Portal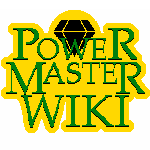 The wiki for all things Power Master! There are currently 615 pages about the Power Master series on the wiki!

Please note that this wiki contains canonical information and SPOILERS!
If you don't already have a wiki account, feel free to sign up and start editing!

Search:


 

Help maintain this page
Whirlpool Whips are Whip weapons in Power Master 1: A Strange Journey, created by fusing a Whip with a Book of Water. They can only be bought from the Blacksmith in the Town of Dora. When equipped, it will increase the wielder's Attack by 50 and it has a 65% chance of inflicting the Slowed status on an enemy. Equipping it will cause the wielder to become stronger to Fire-, Wind-, Water-, and Stone-based attacks, but become weaker to Ice- and Lightning-based attacks.
Media
Follow Power Master updates on these social medias